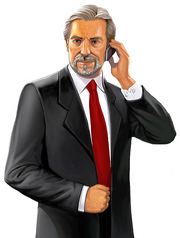 Wolfgang is the first contract added to TrainStation in 2013. It was added on February 7th, 2013. It is categorized as MEDIUM. There will be 90 contracts in total. It is a Berlin Theme related contract.
According to Game Updates, Wolfgang will unlock a new contract everyday at 0:01 CET (UTC+1), therefore if you started at February 7th with the 1st contract, you will finish May 8th at 12:00 a.m. CET is when the last contract is offered.
It is suggested to be at least level 87 to start Wolfgang because of the Genesis set required by contract #11.
As it is a new set, information about the contracts are being filled in as they are completed. Please feel free to share information about unknown contracts. For a list of items available at Wolfgang's shop, Click Here.
Wolfgang's Contract list
#
Contract
Reward
1
Sell 5x Snow Drift decorations
Snow Plow (decoration)
800
2
Deliver 9x Snow Plow Carrier wagons
3x Snow Giant (+475% )
1,600
3
Deliver 24x Wolf Sleeper wagons
Schönefeld Gate
(+36/h, 16)
2,400
4
Build 1 Sushi Bar, 1 Baguette Stand and 1 Hot Dog Trailer


(Cost: 2,000 , 4,000 , 2,000 , 2,000 , 2,000 )

30
3,200
5
Deliver 15,000 
15 
4,000
6
Deliver 5x complete RAe TEE II (Set)
(RAe TEE II Gottardo not needed)
2x ACE Billboard (decoration)
4,800
7
Deliver 15,000 , 15,000
ES64U RTS
5,600
8
Build 1 Carl Hotel
(Cost: 25,000 , 25,000 , 25,000 )
Brick Schnabel
( +110%)
6,400
9
Deliver 500,000
Berlin Jet (decoration)
7,200
10
Deliver 25,000 , 25,000
Cement Schnabel
( +110%)
8,000
11
Deliver 25x complete Genesis set
4x 18 Wheeler Carrier
( +425%)
8,800
12
Deliver 30,000 , 30,000
30
9,600
13
Deliver 1,000,000
2x VIP Coach
(90   +240%)
10,400
14
Build 1 DB Headquarters (Cost: 60,000 , 60,000 ) OR
Build 1 ING House (Cost: 60,000 , 60,000 )
Hauptstrasse
( +79 /h, 9 )
11,200
15
Build 1 Triple CHU, 1 Double CHU and 1 CHU
(Cost: 36,000 )
Mobile Crane (Decoration)
12,000
16
Deliver 35,000  and 35,000
Gravel Schnabel
( +110%)
12,800
17
Deliver 75,000
3x Reinforced Concrete (Decoration)
13,600
18
Deliver 80 full Titanium Shipper OR
Deliver 200 full Titanium Carrier
Twisting Tower
(+60/h, 10)
14,400
19
Deliver 40,000 and 40,000
Rubber Schnabel
(+110% )
15,200
20
Deliver 6 complete Hondekop Sets
(NS PEC not needed)
DB Class 403 Tail 150   (60%)
16,000
21
Deliver 18 complete Shinkansen 0 set
4x Bremen 1,450 (+50%)
16,800
22
Deliver 48 FULL Aero Coach
7x Munich 150  (+95%)

17,600

23
Deliver 6 LRC Express
(Montreal not needed)

DB Class 403 
(12 , elec.)

18,400
24
Deliver 50,000 and 50,000
Container Lift   (Decoration)
19,200
25
Deliver 110,000
30
20,000
26
Deliver 60,000 and 60,000
Carbon Schnabel
20,800
27
Deliver 120,000
Red Tower Crane (Decoration)
21,600
28
Deliver 5,000,000
2x VIP Coach
(90   240%)
22,400
29
Deliver 65,000 and 65,000
Titanium Schnabel (+110%)
23,200
30
Deilver 30x Sweeper Transport
3x Street Sweeper (Decoration)
24,000
31
Deliver 20 FULL Wire Majestic or 200 FULL Wire Carrier
20x
24,800
32
Deliver 2,000,000 or 100,000
Airport Mall
(135  /h 25 )
25,600
33
Deliver 2,000,000 or 100,000
Airport Hotel
(135  /h 25 )
26,400
34
Deliver 140,000
2x Uranium Schnabel
27,200
35
Deliver COMPLETE Donald Duck 7X
40
28,000
36
Deliver 24 FULL VIP Coach Wagons
BER Airport Terminal
250   / h 33 
28,800
37
Build Antonov Mriya Decoration.
Requires (100,000 , 100,000 , 150,000 )
Antonov Mriya
Decoration
29,600
38
Deliver 60,000 and 60,000
2x Aircraft Tractor Decorations
30,400
39
Deliver 60,000 and 25 full Dump Truck Car Wagons.
2x Gravel Schnabel
(+110%)
31,200
40
Deliver 120,000
BER Control Tower
32,000
41
Deliver 80,000
BER Boarding Gate
32,800
42
Deliver 6,000,000
Boarding Stairs
(Decoration)
33,600
43
Build 2x Panther Fire Truck
20,000
20,000
20,000
Build 2x Ambulance
20,000
20,000
20,000
and Deliver 50,000
Panther Fire Truck (Decoration)
34,200
44
Deliver 2,000,000 or Deliver 100,000
25
35,000