Line 1:
Line 1:
 

[[File:Minigame.PNG|thumb]][[File:TS_Minigame.PNG|thumb]]The Trainstation portal features a minigame which you can play once a day. A spin of the train will yeild a random resource. The amount you get is dependent on your level and the number of days in a row you visit. The base amout you receive is 50 times your level. For each consecutive day you can get a bonus 10% up to a maximum of 50%.

 

[[File:Minigame.PNG|thumb]][[File:TS_Minigame.PNG|thumb]]The Trainstation portal features a minigame which you can play once a day. A spin of the train will yeild a random resource. The amount you get is dependent on your level and the number of days in a row you visit. The base amout you receive is 50 times your level. For each consecutive day you can get a bonus 10% up to a maximum of 50%.

 
 
 
+

When getting Gems, you can get more that one, but the number of them will not be multiplied by your level.

−

It is also possible to get gems however only a single gem is rewarded regardless of level or the number of days visited.[[File:Minigame2.PNG|thumb]]

 
 
+

[[File:Minigame2.PNG|thumb]]
---
Revision as of 11:04, 9 September 2012
The Trainstation portal features a minigame which you can play once a day. A spin of the train will yeild a random resource. The amount you get is dependent on your level and the number of days in a row you visit. The base amout you receive is 50 times your level. For each consecutive day you can get a bonus 10% up to a maximum of 50%.
When getting Gems, you can get more that one, but the number of them will not be multiplied by your level.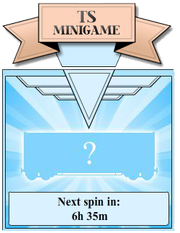 Community content is available under
CC-BY-SA
unless otherwise noted.