The National Flag Engines were introduced in 2012 and offered locomotives decorated with specific country colors, flags, and insignia. However, they were discontinued and removed from the Shop with the 4 May 2015 Game Update.
For the last month of their availability, the cost was reduced to: 150
or 800,000

. 
All National Flag Engines awarded 14,000 Buy XP, gave 70 dispatch XP, and had a Limit of 1.
Name
Country
Image
Lvl
Cost
Pwr
Tax
Tax/Pwr
Ratio
2062 Hrvatska
Croatia
80
300
11
100
9.09
100
1,000,000
4-6-4 Maple Leaf
Canada
80
300
16
600
37.50
100
1,000,000
BR 55 Union Jack
UK
80
300
11
100
9.09
100
1,000,000
CC 40100 Hexagon
France
80
300
11
100
9.09
100
1,000,000
CC203 Garuda
Indonesia
80
300
11
100
9.09
100
1,000,000
CFL 3000 Grand Duke
Luxembourg
80
300
11
100
9.09
100
1,000,000
Class 1900 Portugal
Portugal
80
300
11
100
9.09
100
1,000,000
Class 252 Hispania
Spain
80
300
11
100
9.09
100
1,000,000
Class 755 Kriváň
Slovak Republic
80
300
11
100
9.09
100
1,000,000
Dash 9 Eagle
USA
80
300
11
100
9.09
100
1,000,000
DE24000 Anatolia
Turkey
80
300
11
100
9.09
100
1,000,000
Dm3 Tre Kronor
Sweden
80
300
11
100
9.09
100
1,000,000
Dr16 Suomi
Finland
80
300
11
100
9.09
100
1,000,000
DSB Class ME Viking
Denmark
80
300
11
100
9.09
100
1,000,000
E400 Yushan
Taiwan
80
300
11
100
9.09
100
1,000,000
E402 Margherita
Italy
80
300
11
100
9.09
100
1,000,000
EF 66 Chrysanthemum
Japan
80
300
11
100
9.09
100
1,000,000
EMD DDM45 Salvador
Brazil
80
300
11
100
9.09
100
1,000,000
EP1M Ural
Russian Federation
80
300
11
100
9.09
100
1,000,000
ER20 Germania
Germany
80
300
11
100
9.09
100
1,000,000
ES64U Land der Berge
Austria
80
300
11
100
9.09
100
1,000,000
NR Southern Cross
Australia
80
300
11
100
9.09
100
1,000,000
NS Class 1200 Tulip
Netherlands
80
300
11
100
9.09
100
1,000,000
NSB El 16 Fjord
Norway
80
300
11
100
9.09
100
1,000,000
PKP ST40 Sobieski
Poland
80
300
11
100
9.09
100
1,000,000
Re 460 Helvetia
Switzerland
80
300
11
100
9.09
100
1,000,000
SNCB 55 Leo Belgicus
Belgium
80
300
11
100
9.09
100
1,000,000
T669 Bohemia
Czech Republic
80
300
11
100
9.09
100
1,000,000
TransMontana Aquila
Romania
80
300
11
100
9.09
100
1,000,000
V63 István
Hungary
80
300
11
100
9.09
100
1,000,000
WDG-4 Indus
India
80
300
11
100
9.09
100
1,000,000
Image Gallery
[
]
National Flag Pictures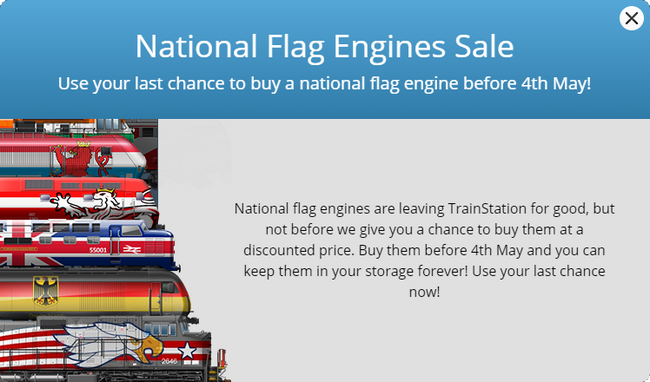 Trending pages
All items (31)