m

m

(30 intermediate revisions by 2 users not shown)
Line 1:
Line 1:
 
+

{{Languages

−

[[File:Limited gem offer Old.png|frame|right|previous Gem Offer icon]][[File:Limited gem offer.png|80px|thumb|left|current Gem Offer icon]]'''Gem Offers''' occur at various times throughout the year and present the player with an opportunity to buy a pile of Gems for real money. When a player logs into the game during a Gem Offer, the game displays a pop-up screen listing the number of gems and at what price. The price and gems amount differ for each player based on that player's level and history of past gem purchases. Additionally, Pixel Federation will typically include a '''FREE''' locomotive as a bonus incentive. The locomotives within each offer wear liveries with a common theme.<br><br>In the beginning of the game there are three '''Welcome'''-Offers which are triggered after reaching Level 10, 25 and 40 and last only 24h. They offer, in addition to some Gems, respectivly the [[Big Boy Duochrome]], [[Northern 9]] or [[RENFE 252]] as unique locomotives for '''FREE'''. The first one offers also sometimes a '''free''' [[International Slots|International]] Slot. The later ones - if not already bought before - the technologies [[Dieselisation]] or [[Electrification]] for '''FREE''' too.

 
 
+

|de = Kategorie:Gem Angebote

 
+

|nl = Categorie:Gem Aanbieding

 
+

}}{{HeaderOffersPage|g|m}}<br>Since from {{Update|2019|7|8|467}}, Pixel Federation released a new form of gem-offer.<br>There TS repeats engines of older offers to players who can not use the tech level of the actual offer yet. That means players without '''Maglev''' or '''Hyperloop''' technology will get an '''diesel''' offer instead.<br>'''Note:''' Therefore, it will be shown as [[File:Icon Repeated.png|20px]].

 
 
 
 
−

Each Gem Offer is one-time use only and expires 72 hours after viewing the offer (unless stated otherwise).

+

Each Gem Offer is one-time use only and expires 72 ( ).

 
 
 
 
 

Gem Offers are a kind of Limited Offer. See [[:Category:Limited Offer|Limited Offers]] {{LO}} for more information.

 

Gem Offers are a kind of Limited Offer. See [[:Category:Limited Offer|Limited Offers]] {{LO}} for more information.

 
+

{{MainOfferPage.dpl}}

 
 
−

=2019=

 
−

==Infinite Brightline (July)==

 
−

{{GemOfferTable}}

 
−

{{GemOfferLoco|name=Infinite Brightline 1|power=108}}

 
−

{{GemOfferLoco|name=Infinite Brightline 2|power=113|img=Infinite Brightline 1}}

 
−

{{GemOfferLoco|name=Infinite Brightline 3|power=120|img=Infinite Brightline 1}}

 
−

{{GemOfferLoco|name=Infinite Brightline 4|power=124|img=Infinite Brightline 1}}

 
−

{{EndTable}}

 
−
 
−

==Speedburst (June)==

 
−

{{GemOfferTable|event=[[:Category:Hyperloop Hype#2019|Hyperloop Hype 2019]]}}

 
−

{{GemOfferLoco|name=SpeedBurst FEF-2|power=14|type=s}}

 
−

{{GemOfferLoco|name=Speedburst E4K 1|power=14|img=Speedburst E4K}}

 
−

{{GemOfferLoco|name=Speedburst E4K 2|power=18|img=Speedburst E4K}}

 
−

{{GemOfferLoco|name=Speedburst Takk 1|power=26|img=Speedburst Takk|type=h}}

 
−

{{GemOfferLoco|name=Speedburst Takk 2|power=27|img=Speedburst Takk|type=h}}

 
−

{{GemOfferLoco|name=Speedburst Takk 3|power=28|img=Speedburst Takk|type=h}}

 
−

{{GemOfferLoco|name=Speedburst Takk 4|power=30|img=Speedburst Takk|type=h}}

 
−

{{GemOfferLoco|name=Speedburst E4K 3|power=104|img=Speedburst E4K}}

 
−

{{GemOfferLoco|name=Speedburst E4K 4|power=105|img=Speedburst E4K}}

 
−

{{GemOfferLoco|name=Speedburst E4K 5|power=107|img=Speedburst E4K}}

 
−

{{GemOfferLoco|name=Speedburst E4K 6|power=112|img=Speedburst E4K}}

 
−

{{GemOfferLoco|name=Speedburst E4K 7|power=119|img=Speedburst E4K}}

 
−

{{GemOfferLoco|name=Speedburst E4K 8|power=121|img=Speedburst E4K}}

 
−

{{GemOfferLoco|name=Speedburst E4K 9|power=123|img=Speedburst E4K}}

 
−

{{EndTable}}

 
−

==Speedster (May)==

 
−

{{GemOfferTable}}

 
−

{{GemOfferLoco|name=Speedster Class P36|power=14|type=s}}

 
−

{{GemOfferLoco|name=Speedster AC44i 1|power=14|img=Speedster AC44i}}

 
−

{{GemOfferLoco|name=Speedster AC44i 2|power=18|img=Speedster AC44i}}

 
−

{{GemOfferLoco|name=Speedster AC44i 3|power=104|img=Speedster AC44i}}

 
−

{{GemOfferLoco|name=Speedster AC44i 4|power=105|img=Speedster AC44i}}

 
−

{{GemOfferLoco|name=Speedster AC44i 5|power=107|img=Speedster AC44i}}

 
−

{{GemOfferLoco|name=Speedster AC44i 6|power=112|img=Speedster AC44i}}

 
−

{{GemOfferLoco|name=Speedster AC44i 7|power=119|img=Speedster AC44i}}

 
−

{{GemOfferLoco|name=Speedster AC44i 8|power=121|img=Speedster AC44i}}

 
−

{{GemOfferLoco|name=Speedster AC44i 9|power=123|img=Speedster AC44i}}

 
−

{{EndTable}}

 
−

==Thunderbird (May)==

 
−

{{GemOfferLocoTable|Thunderbird|2019|[[:Category:Diesel Domination#2019|Diesel Domination 2019]]}}

 
−

{{GemOfferLoco|name=Thunderbird Argent|power=14|type=s}}

 
−

{{GemOfferLoco|name=Thunderbird PA/PB|power=14}}

 
−

{{GemOfferLoco|name=Thunderbird RF-16|power=18}}

 
−

{{GemOfferLoco|name=Thunderbird C 7400|power=103}}

 
−

{{GemOfferLoco|name=Thunderbird Aero|power=104}}

 
−

{{GemOfferLoco|name=Thunderbird Class90|power=106}}

 
−

{{GemOfferLoco|name=Thunderbird EMD F9|power=111}}

 
−

{{GemOfferLoco|name=Thunderbird SDP40|power=118}}

 
−

{{GemOfferLoco|name=Thunderbird BL-2|power=120}}

 
−

{{GemOfferLoco|name=Thunderbird FT|power=122}}

 
−

{{EndTable}}

 
−

==Floral (April)==

 
−

{{GemOfferLocoTable|Floral|2019|[[:Category:Spring#2019|Spring 2019]]}}

 
−

{{GemOfferLoco|name=Floral 19.10 DRG|power=14|type=s}}

 
−

{{GemOfferLoco|name=Floral Voith|power=14|type=d}}

 
−

{{GemOfferLoco|name=Floral Sentinel|power=18|type=d}}

 
−

{{GemOfferLoco|name=Floral C44aci|power=102|type=d}}

 
−

{{GemOfferLoco|name=Floral PH37|power=103|type=d}}

 
−

{{GemOfferLoco|name=Floral QTX|power=105|type=d}}

 
−

{{GemOfferLoco|name=Floral Di 6|power=110|type=d}}

 
−

{{GemOfferLoco|name=Floral BB40-9W|power=117|type=d}}

 
−

{{GemOfferLoco|name=Floral DF200|power=119|type=d}}

 
−

{{GemOfferLoco|name=Floral NSW 90|power=121|type=d}}

 
−

{{EndTable}}

 
−

==Gigawatt (March)==

 
−

{{GemOfferLocoTable|Gigawatt|2019|[[:Category:Electric Extravaganza#2019|Electric Extravaganza 2019]]}}

 
−

{{GemOfferLoco|name=Gigawatt Express|power=14|type=s}}

 
−

{{GemOfferLoco|name=Gigawatt GP40|power=14|type=d}}

 
−

{{GemOfferLoco|name=Gigawatt CM40-8M|power=18|type=d}}

 
−

{{GemOfferLoco|name=Gigawatt Pixel One|power=24|type=h}}

 
−

{{GemOfferLoco|name=Gigawatt Amaranth|power=25|type=h}}

 
−

{{GemOfferLoco|name=Gigawatt Himalia|power=26|type=h}}

 
−

{{GemOfferLoco|name=Gigawatt Aurora|power=28|type=h}}

 
−

{{GemOfferLoco|name=Gigawatt IE201|power=101|type=d}}

 
−

{{GemOfferLoco|name=Gigawatt Class 66|power=102|type=d}}

 
−

{{GemOfferLoco|name=Gigawatt Vectron|power=104|type=d}}

 
−

{{GemOfferLoco|name=Gigawatt SD70|power=109|type=d}}

 
−

{{GemOfferLoco|name=Gigawatt DDA40X|power=116|type=d}}

 
−

{{GemOfferLoco|name=Gigawatt GT26C|power=118|type=d}}

 
−

{{GemOfferLoco|name=Gigawatt V300|power=120|type=d}}

 
−

{{EndTable}}

 
−

==Festival (March)==

 
−

{{GemOfferLocoTable|Festival|2019|[[:Category:Carnival#2019|Carnival 2019]]}}

 
−

{{GemOfferLoco|name=Festival Crampton|power=14|type=s}}

 
−

{{GemOfferLoco|name=Festival GE Dash 8-40C|power=14|type=d}}

 
−

{{GemOfferLoco|name=Festival CC300|power=18|type=d}}

 
−

{{GemOfferLoco|name=Festival GP38-2|power=101|type=d}}

 
−

{{GemOfferLoco|name=Festival WAGR S Class|power=102|type=d}}

 
−

{{GemOfferLoco|name=Festival Dash 9-44CW|power=104|type=d}}

 
−

{{GemOfferLoco|name=Festival BR Class 60|power=109|type=d}}

 
−

{{GemOfferLoco|name=Festival SD60E|power=116|type=d}}

 
−

{{GemOfferLoco|name=Festival GE BB40-9W|power=118|type=d}}

 
−

{{GemOfferLoco|name=Festival EMD SD80MAC|power=120|type=d}}

 
−

{{EndTable}}

 
−

==Bouquet (February)==

 
−

{{GemOfferLocoTable|Bouquet|2019|[[:Category:Valentine's Day#2019|Valentine's Day 2019]]}}

 
−

{{GemOfferLoco|name=Bouquet Valiant|power=14|type=s}}

 
−

{{GemOfferLoco|name=Bouquet Class 60|power=14|type=d}}

 
−

{{GemOfferLoco|name=Bouquet WAGR|power=18|type=d}}

 
−

{{GemOfferLoco|name=Bouquet GP50|power=100|type=d}}

 
−

{{GemOfferLoco|name=Bouquet HK|power=101|type=d}}

 
−

{{GemOfferLoco|name=Bouquet B32-8WH|power=103|type=d}}

 
−

{{GemOfferLoco|name=Bouquet DDA40X|power=108|type=d}}

 
−

{{GemOfferLoco|name=Bouquet DF200|power=115|type=d}}

 
−

{{GemOfferLoco|name=Bouquet Class 52|power=117|type=d}}

 
−

{{GemOfferLoco|name=Bouquet SD45|power=119|type=d}}

 
−

{{EndTable}}

 
−

==Everest (January)==

 
−

{{GemOfferLocoTable|Everest|2019|[[:Category:Winter#2019|Winter 2019]]}}

 
−

{{GemOfferLoco|name=Everest Class 01.5|power=14|type=s}}

 
−

{{GemOfferLoco|name=Everest E4K|power=14|type=d}}

 
−

{{GemOfferLoco|name=Everest IE 201|power=18|type=d}}

 
−

{{GemOfferLoco|name=Everest ES44|power=99|type=d}}

 
−

{{GemOfferLoco|name=Everest ER20|power=100|type=d}}

 
−

{{GemOfferLoco|name=Everest Acciona|power=102|type=d}}

 
−

{{GemOfferLoco|name=Everest SD60E|power=107|type=d}}

 
−

{{GemOfferLoco|name=Everest SD80|power=114|type=d}}

 
−

{{GemOfferLoco|name=Everest BR66|power=116|type=d}}

 
−

{{GemOfferLoco|name=Everest Voith|power=118|type=d}}

 
−

{{EndTable}}

 
−
 
−

=2018=

 
−

==Bubbly (December)==

 
−

{{GemOfferLocoTable|Bubbly|2018|[[:Category:New Year#2018|New Year 2018]]}}

 
−

{{GemOfferLoco|name=Bubbly Class 7|power=14|type=s}}

 
−

{{GemOfferLoco|name=Bubbly U50C|power=14|type=d}}

 
−

{{GemOfferLoco|name=Bubbly Eurolight|power=18|type=d}}

 
−

{{GemOfferLoco|name=Bubbly IE201|power=98|type=d}}

 
−

{{GemOfferLoco|name=Bubbly Class 240|power=99|type=d}}

 
−

{{GemOfferLoco|name=Bubbly SD60E|power=101|type=d}}

 
−

{{GemOfferLoco|name=Bubbly GP60|power=106|type=d}}

 
−

{{GemOfferLoco|name=Bubbly C class|power=113|type=d}}

 
−

{{GemOfferLoco|name=Bubbly Maxima|power=115|type=d}}

 
−

{{GemOfferLoco|name=Bubbly ES44|power=117|type=d}}

 
−

{{EndTable}}

 
−

==Xmas (December)==

 
−

{{GemOfferLocoTable|Xmas|2018|[[:Category:Christmas#2018|Christmas 2018]]}}

 
−

{{GemOfferLoco|name=Xmas FEF-2|power=14|type=s}}

 
−

{{GemOfferLoco|name=Xmas SD70ACe|power=14|type=d}}

 
−

{{GemOfferLoco|name=Xmas SD80|power=18|type=d}}

 
−

{{GemOfferLoco|name=Xmas Swelter|power=23|type=h}}

 
−

{{GemOfferLoco|name=Xmas Io|power=24|type=h}}

 
−

{{GemOfferLoco|name=Xmas Callisto|power=25|type=h}}

 
−

{{GemOfferLoco|name=Xmas Seraph|power=27|type=h}}

 
−

{{GemOfferLoco|name=Xmas NSW 90|power=97|type=d}}

 
−

{{GemOfferLoco|name=Xmas PH37|power=98|type=d}}

 
−

{{GemOfferLoco|name=Xmas Class 77|power=100|type=d}}

 
−

{{GemOfferLoco|name=Xmas ML 2200|power=105|type=d}}

 
−

{{GemOfferLoco|name=Xmas M61|power=112|type=d}}

 
−

{{GemOfferLoco|name=Xmas CC300|power=114|type=d}}

 
−

{{GemOfferLoco|name=Xmas DDA40X|power=116|type=d}}

 
−

{{EndTable}}

 
−

==Radiant (December)==

 
−

{{GemOfferLocoTable|Radiant|2018|[[:Category:Winter#2018|Winter 2018]]}}

 
−

{{GemOfferLoco|name=Radiant Special 2101|power=14|type=s}}

 
−

{{GemOfferLoco|name=Radiant 40cc|power=14|type=d}}

 
−

{{GemOfferLoco|name=Radiant BR 50|power=18|type=d}}

 
−

{{GemOfferLoco|name=Radiant PH37|power=97|type=d}}

 
−

{{GemOfferLoco|name=Radiant GP40|power=98|type=d}}

 
−

{{GemOfferLoco|name=Radiant Class 240|power=100|type=d}}

 
−

{{GemOfferLoco|name=Radiant MPI MP36PH|power=105|type=d}}

 
−

{{GemOfferLoco|name=Radiant Sentinel|power=112|type=d}}

 
−

{{GemOfferLoco|name=Radiant EMD F9|power=114|type=d}}

 
−

{{GemOfferLoco|name=Radiant EMD_FT|power=116|type=d}}

 
−

{{EndTable}}

 
−

==Mist (November)==

 
−

{{GemOfferLocoTable|Mist|2018|[[:Category:Halloween#2018|Halloween 2018]]}}

 
−

{{GemOfferLoco|name=Mist Tornado|power=14|type=s}}

 
−

{{GemOfferLoco|name=Mist Vectron|power=14|type=d}}

 
−

{{GemOfferLoco|name=Mist IE|power=18|type=d}}

 
−

{{GemOfferLoco|name=Mist V320|power=96|type=d}}

 
−

{{GemOfferLoco|name=Mist 9-44CW|power=97|type=d}}

 
−

{{GemOfferLoco|name=Mist C44aci|power=99|type=d}}

 
−

{{GemOfferLoco|name=Mist Di 3|power=104|type=d}}

 
−

{{GemOfferLoco|name=Mist GT1h-002|power=111|type=d}}

 
−

{{GemOfferLoco|name=Mist BR66|power=113|type=d}}

 
−

{{GemOfferLoco|name=Mist DDA40X|power=115|type=d}}

 
−

{{EndTable}}

 
−

==Scare (October)==

 
−

{{GemOfferLocoTable|Scare|2018|[[:Category:Halloween#2018|Halloween 2018]]<br>[[:Category:TS Anniversary#2018|TS Anniversary 2018 - 8th Anniversary]]}}

 
−

{{GemOfferLoco|name=Scare Hudson|power=14|type=s}}

 
−

{{GemOfferLoco|name=Scare R333|power=14|type=d}}

 
−

{{GemOfferLoco|name=Scare TasRail TR|power=18|type=d}}

 
−

{{GemOfferLoco|name=Scare Dash 8|power=95|type=d}}

 
−

{{GemOfferLoco|name=Scare WDG 4|power=96|type=d}}

 
−

{{GemOfferLoco|name=Scare ER 20|power=98|type=d}}

 
−

{{GemOfferLoco|name=Scare Class L|power=103|type=d}}

 
−

{{GemOfferLoco|name=Scare BR 66|power=109|type=d}}

 
−

{{GemOfferLoco|name=Scare CM 40|power=111|type=d}}

 
−

{{GemOfferLoco|name=Scare v300|power=113|type=d}}

 
−

{{EndTable}}

 
−

==Impulse (September)==

 
−

{{GemOfferLocoTable|Impulse|2018|[[:Category:Autumn#2018|Autumn 2018]]}}

 
−

{{GemOfferLoco|name=Impulse Class A1|power=14|type=s}}

 
−

{{GemOfferLoco|name=Impulse TEM7A|power=14|type=d}}

 
−

{{GemOfferLoco|name=Impulse Di 6|power=18|type=d}}

 
−

{{GemOfferLoco|name=Impulse CC300|power=94|type=d}}

 
−

{{GemOfferLoco|name=Impulse DF200|power=95|type=d}}

 
−

{{GemOfferLoco|name=Impulse BB40-9W|power=97|type=d}}

 
−

{{GemOfferLoco|name=Impulse G2000|power=102|type=d}}

 
−

{{GemOfferLoco|name=Impulse RSD-15|power=108|type=d}}

 
−

{{GemOfferLoco|name=Impulse BL2|power=110|type=d}}

 
−

{{GemOfferLoco|name=Impulse PH37|power=112|type=d}}

 
−

{{EndTable}}

 
−

==Imminent (September)==

 
−

{{GemOfferLocoTable|Imminent|2018|[[:Category:Maglev Madness#2018|Maglev Madness 2018]]}}

 
−

{{GemOfferLoco|name=Imminent Class P36|power=14|type=s}}

 
−

{{GemOfferLoco|name=Imminent Di 3|power=14|type=d}}

 
−

{{GemOfferLoco|name=Imminent EffiShunter|power=18|type=d}}

 
−

{{GemOfferLoco|name=Imminent DSB Class ME|power=93|type=d}}

 
−

{{GemOfferLoco|name=Imminent SD70|power=94|type=d}}

 
−

{{GemOfferLoco|name=Imminent QTX|power=96|type=d}}

 
−

{{GemOfferLoco|name=Imminent GL26C-2|power=101|type=d}}

 
−

{{GemOfferLoco|name=Imminent AC44i|power=107|type=d}}

 
−

{{GemOfferLoco|name=Imminent DDA40X|power=109|type=d}}

 
−

{{GemOfferLoco|name=Imminent Euro 4000|power=111|type=d}}

 
−

{{EndTable}}

 
−

==Undecim (August)==

 
−

{{GemOfferLocoTable|Undecim|2018|[[:Category:PF Birthday#2018|PF Birthday 2018 - 11th Birthday]]}}

 
−

{{GemOfferLoco|name=Class A1 Undecim|power=14|type=s}}

 
−

{{GemOfferLoco|name=DF200 Undecim|power=14|type=d}}

 
−

{{GemOfferLoco|name=WAGR Undecim|power=18|type=d}}

 
−

{{GemOfferLoco|name=DXB Undecim|power=92|type=d}}

 
−

{{GemOfferLoco|name=NSW 90 Undecim|power=93|type=d}}

 
−

{{GemOfferLoco|name=Class 47 Undecim|power=95|type=d}}

 
−

{{GemOfferLoco|name=NJ2 Undecim|power=100|type=d}}

 
−

{{GemOfferLoco|name=Di 6 Undecim|power=106|type=d}}

 
−

{{GemOfferLoco|name=Vectron Undecim|power=108|type=d}}

 
−

{{GemOfferLoco|name=GE BB40 Undecim|power=110|type=d}}

 
−

{{EndTable}}

 
−

==Blockbuster (July)==

 
−

{{GemOfferLocoTable|Blockbuster|2018|[[:Category:Train Tales Festival#2018|Train Tales Festival 2018]]}}

 
−

{{GemOfferLoco|name=Blockbuster FEF-2|power=14|type=s}}

 
−

{{GemOfferLoco|name=Blockbuster Genesis|power=14|type=d}}

 
−

{{GemOfferLoco|name=Blockbuster SD70ACe|power=18|type=d}}

 
−

{{GemOfferLoco|name=Blockbuster Metrolink|power=91|type=d}}

 
−

{{GemOfferLoco|name=Blockbuster Euro4000|power=92|type=d}}

 
−

{{GemOfferLoco|name=Blockbuster Class 77|power=94|type=d}}

 
−

{{GemOfferLoco|name=Blockbuster Class 60|power=99|type=d}}

 
−

{{GemOfferLoco|name=Blockbuster DSB cl. MZ|power=105|type=d}}

 
−

{{GemOfferLoco|name=Blockbuster PH37|power=107|type=d}}

 
−

{{GemOfferLoco|name=Blockbuster Brightline|power=109|type=d}}

 
−

{{EndTable}}

 
−

==Dribbler (June)==

 
−

{{GemOfferLocoTable|Dribbler|2018|[[:Category:Sports#2018|World Cup 2018]]}}

 
−

{{GemOfferLoco|name=Class 10 Dribbler|power=14|type=s}}

 
−

{{GemOfferLoco|name=Eurolight Dribbler|power=14|type=d}}

 
−

{{GemOfferLoco|name=Dash 8-40c Dribbler|power=18|type=d}}

 
−

{{GemOfferLoco|name=HK Dribbler|power=90|type=d}}

 
−

{{GemOfferLoco|name=WDG5 Dribbler|power=91|type=d}}

 
−

{{GemOfferLoco|name=SD60E Dribbler|power=93|type=d}}

 
−

{{GemOfferLoco|name=HXN5 Dribbler|power=98|type=d}}

 
−

{{GemOfferLoco|name=ML4000 Dribbler|power=104|type=d}}

 
−

{{GemOfferLoco|name=R333 Dribbler|power=106|type=d}}

 
−

{{GemOfferLoco|name=Maxima Dribbler|power=107|type=d}}

 
−

{{EndTable}}

 
−

==Haze (May)==

 
−

{{GemOfferLocoTable|Haze|2018|[[:Category:Steam Frenzy#2018|Steam Frenzy 2018]]}}

 
−

{{GemOfferLoco|name=Haze DRG Class 05|power=14|type=s}}

 
−

{{GemOfferLoco|name=Haze EffiShunter|power=14|type=d}}

 
−

{{GemOfferLoco|name=Haze M61|power=18|type=d}}

 
−

{{GemOfferLoco|name=Haze GT1h-002|power=89|type=d}}

 
−

{{GemOfferLoco|name=Haze RS3m|power=90|type=d}}

 
−

{{GemOfferLoco|name=Haze ER20|power=92|type=d}}

 
−

{{GemOfferLoco|name=Haze DB V300|power=97|type=d}}

 
−

{{GemOfferLoco|name=Haze C66|power=102|type=d}}

 
−

{{GemOfferLoco|name=Haze U50C|power=104|type=d}}

 
−

{{GemOfferLoco|name=Haze 071 Class|power=106|type=d}}

 
−

{{EndTable}}

 
−

==Kubwa (April)==

 
−

{{GemOfferLocoTable|Kubwa|2018}}

 
−

{{GemOfferLoco|name=Kubwa 19.10 DRG|power=14|type=s}}

 
−

{{GemOfferLoco|name=Kubwa GP60|power=14|type=d}}

 
−

{{GemOfferLoco|name=Kubwa Class ME|power=18|type=d}}

 
−

{{GemOfferLoco|name=Kubwa BR66|power=88|type=d}}

 
−

{{GemOfferLoco|name=Kubwa BL2|power=89|type=d}}

 
−

{{GemOfferLoco|name=Kubwa Dash 9|power=91|type=d}}

 
−

{{GemOfferLoco|name=Kubwa CC300|power=96|type=d}}

 
−

{{GemOfferLoco|name=Kubwa BR47|power=100|type=d}}

 
−

{{GemOfferLoco|name=Kubwa GE BB40|power=102|type=d}}

 
−

{{GemOfferLoco|name=Kubwa WDG4D|power=104|type=d}}

 
−

{{EndTable}}

 
−

==Vibrant (April)==

 
−

{{GemOfferLocoTable|Vibrant|2018|[[:Category:Spring#2018|Spring 2018]]}}

 
−

{{GemOfferLoco|name=Vibrant Big Boy|power=14|type=s}}

 
−

{{GemOfferLoco|name=Vibrant SD45|power=14|type=d}}

 
−

{{GemOfferLoco|name=Vibrant IE201|power=18|type=d}}

 
−

{{GemOfferLoco|name=Vibrant GE T4|power=87|type=d}}

 
−

{{GemOfferLoco|name=Vibrant Vectron|power=88|type=d}}

 
−

{{GemOfferLoco|name=Vibrant DDA40X|power=90|type=d}}

 
−

{{GemOfferLoco|name=Vibrant Class L|power=95|type=d}}

 
−

{{GemOfferLoco|name=Vibrant Metrolink|power=99|type=d}}

 
−

{{GemOfferLoco|name=Vibrant Brightline|power=101|type=d}}

 
−

{{GemOfferLoco|name=Vibrant Tiger|power=103|type=d}}

 
−

{{EndTable}}

 
−

==Endurance (February)==

 
−

{{GemOfferLocoTable|Endurance|2018|[[:Category:Winter Games#2018|Winter Games 2018]]}}

 
−

{{GemOfferLoco|name=Hudson Endurance|power=14|type=s}}

 
−

{{GemOfferLoco|name=Euro4000 Endurance|power=14|type=d}}

 
−

{{GemOfferLoco|name=Haste Endurance|power=15|type=h}}

 
−

{{GemOfferLoco|name=Ethor Endurance|power=16|type=h}}

 
−

{{GemOfferLoco|name=NYX Endurance|power=17|type=h}}

 
−

{{GemOfferLoco|name=Placid Endurance|power=18|type=h}}

 
−

{{GemOfferLoco|name=SD90 Endurance|power=18|type=d}}

 
−

{{GemOfferLoco|name=GL26C-2 Endurance|power=85|type=d}}

 
−

{{GemOfferLoco|name=Class 77 Endurance|power=86|type=d}}

 
−

{{GemOfferLoco|name=WAGR Endurance|power=88|type=d}}

 
−

{{GemOfferLoco|name=Class 47 Endurance|power=93|type=d}}

 
−

{{GemOfferLoco|name=Vectron Endurance|power=96|type=d}}

 
−

{{GemOfferLoco|name=SD40-2 Endurance|power=98|type=d}}

 
−

{{GemOfferLoco|name=DB V300 Endurance|power=100|type=d}}

 
−

{{EndTable}}

 
−
 
−

=2017=

 
−

==Enchanted (December)==

 
−

{{GemOfferLocoTable|Enchanted|2017|[[:Category:Winter#2017|Winter 2017]]}}

 
−

{{GemOfferLoco|name=Class P36 Enchanted|power=14|type=s}}

 
−

{{GemOfferLoco|name=AC44i Enchanted|power=14|type=d}}

 
−

{{GemOfferLoco|name=Class 071 Enchanted|power=18|type=d}}

 
−

{{GemOfferLoco|name=DDA40X Enchanted|power=83|type=d}}

 
−

{{GemOfferLoco|name=Di 3 Enchanted|power=84|type=d}}

 
−

{{GemOfferLoco|name=EMD DDM45 Enchanted|power=86|type=d}}

 
−

{{GemOfferLoco|name=IE Enchanted|power=91|type=d}}

 
−

{{GemOfferLoco|name=NSW 90 Enchanted|power=93|type=d}}

 
−

{{GemOfferLoco|name=SD90 Enchanted|power=95|type=d}}

 
−

{{GemOfferLoco|name=v300 Enchanted|power=97|type=d}}

 
−

{{EndTable}}

 
−

==Grim (October)==

 
−

{{GemOfferLocoTable|Grim|2017|[[:Category:Halloween#2017|Halloween 2017]]}}

 
−

{{GemOfferLoco|name=Grim Goose|power=14|type=s}}

 
−

{{GemOfferLoco|name=Grim L Class|power=14|type=d}}

 
−

{{GemOfferLoco|name=Grim Settler|power=14|type=h}}

 
−

{{GemOfferLoco|name=Grim Patron|power=15|type=h}}

 
−

{{GemOfferLoco|name=Grim Takk|power=16|type=h}}

 
−

{{GemOfferLoco|name=Grim Velocity|power=17|type=h}}

 
−

{{GemOfferLoco|name=Grim GP38-2|power=18|type=d}}

 
−

{{GemOfferLoco|name=Grim Elder|power=81|type=d}}

 
−

{{GemOfferLoco|name=Grim DF200|power=82|type=d}}

 
−

{{GemOfferLoco|name=Grim TasRail TR|power=84|type=d}}

 
−

{{GemOfferLoco|name=Grim Class 77|power=89|type=d}}

 
−

{{GemOfferLoco|name=Grim GE BB40|power=90|type=d}}

 
−

{{GemOfferLoco|name=Grim CC300|power=92|type=d}}

 
−

{{GemOfferLoco|name=Grim Eurolight|power=94|type=d}}

 
−

{{EndTable}}

 
−

==Decennial (August)==

 
−

{{GemOfferLocoTable|Decennial|2017|[[:Category:PF Birthday#2017|PF Birthday 2017 - 10th Birthday]]}}

 
−

{{GemOfferLoco|name=Shard Decennial|power=13|type=h}}

 
−

{{GemOfferLoco|name=Class 7 Decennial|power=14|type=s}}

 
−

{{GemOfferLoco|name=Dash 8 Decennial|power=14}}

 
−

{{GemOfferLoco|name=Placid Decennial|power=14|type=h}}

 
−

{{GemOfferLoco|name=Buckler Decennial|power=15|type=h}}

 
−

{{GemOfferLoco|name=Entrant Decennial|power=16|type=h}}

 
−

{{GemOfferLoco|name=GP60 Decennial|power=18|type=d}}

 
−

{{GemOfferLoco|name=HXN5 Decennial|power=79|type=d}}

 
−

{{GemOfferLoco|name=BR 50 Decennial|power=80|type=d}}

 
−

{{GemOfferLoco|name=Voith Decennial|power=82|type=d}}

 
−

{{GemOfferLoco|name=CM40 Decennial|power=86|type=d}}

 
−

{{GemOfferLoco|name=Class 37 Decennial|power=87|type=d}}

 
−

{{GemOfferLoco|name=Class 52 Decennial|power=89|type=d}}

 
−

{{GemOfferLoco|name=SD70ACe Decennial|power=92|type=d}}

 
−

{{EndTable}}

 
−

==Splash (June)==

 
−

{{GemOfferLocoTable|Splash|2017|[[:Category:Summer#2017|Summer 2017]]}}

 
−

{{GemOfferLoco|name=Class 01.5 Splash|power=14|type=s}}

 
−

{{GemOfferLoco|name=DE24000 Splash|power=14|type=d}}

 
−

{{GemOfferLoco|name=BR 70 Splash|power=18|type=d}}

 
−

{{GemOfferLoco|name=E4K Splash|power=77|type=d}}

 
−

{{GemOfferLoco|name=IE 201 Splash|power=78|type=d}}

 
−

{{GemOfferLoco|name=BR47 Splash|power=80|type=d}}

 
−

{{GemOfferLoco|name=ES44 Splash|power=84|type=d}}

 
−

{{GemOfferLoco|name=ER20 Splash|power=85|type=d}}

 
−

{{GemOfferLoco|name=Acciona Splash|power=87|type=d}}

 
−

{{GemOfferLoco|name=SD45 Splash|power=90|type=d}}

 
−

{{EndTable}}

 
−

==Delighful (April)==

 
−

{{GemOfferLocoTable|Delighful|2017|[[:Category:Spring#2017|Spring 2017]]}}

 
−

{{GemOfferLoco|name=Delighful Class 10|power=14|type=s}}

 
−

{{GemOfferLoco|name=Delighful NJ2|power=14|type=d}}

 
−

{{GemOfferLoco|name=Delighful Class ME|power=18|type=d}}

 
−

{{GemOfferLoco|name=Delighful WDG-4|power=75|type=d}}

 
−

{{GemOfferLoco|name=Delighful ML4000|power=76|type=d}}

 
−

{{GemOfferLoco|name=Delighful Vectron|power=78|type=d}}

 
−

{{GemOfferLoco|name=Delighful M61|power=82|type=d}}

 
−

{{GemOfferLoco|name=Delighful DXB|power=83|type=d}}

 
−

{{GemOfferLoco|name=Delighful GP50|power=85|type=d}}

 
−

{{GemOfferLoco|name=Delighful 001|power=88|type=d}}

 
−

{{EndTable}}

 
−

==Amor (February)==

 
−

{{GemOfferLocoTable|Amor|2017|[[:Category:Valentine's Day#2017|Valentine's Day 2017]]}}

 
−

{{GemOfferLoco|name=Mallard Amor|power=14|type=s}}

 
−

{{GemOfferLoco|name=DB V300 Amor|power=14|type=d}}

 
−

{{GemOfferLoco|name=U36B Amor|power=18|type=d}}

 
−

{{GemOfferLoco|name=QGRY 801 Amor|power=74|type=d}}

 
−

{{GemOfferLoco|name=HXN5 Amor|power=75|type=d}}

 
−

{{GemOfferLoco|name=DE-AC33C Amor|power=77|type=d}}

 
−

{{GemOfferLoco|name=EMD DDM45 Amor|power=81|type=d}}

 
−

{{GemOfferLoco|name=EMD SD40-2 Amor|power=82|type=d}}

 
−

{{GemOfferLoco|name=QR 2300 Amor|power=84|type=d}}

 
−

{{GemOfferLoco|name=071 Class Amor|power=87|type=d}}

 
−

{{EndTable}}

 
−
 
−

=2016=

 
−

==Yule (December)==

 
−

{{GemOfferLocoTable|Yule|2016|[[:Category:Christmas#2016|Christmas 2016]]<br>This offer also added an additional [[:Category:Extensions#Train_Slots|Local Train Slot]].}}

 
−

{{GemOfferLoco|name=Yule Express|power=14|type=s}}

 
−

{{GemOfferLoco|name=Dash 8 Yule|power=14|type=d}}

 
−

{{GemOfferLoco|name=CC300 Yule|power=18|type=d}}

 
−

{{GemOfferLoco|name=GP38-2 Yule|power=73|type=d}}

 
−

{{GemOfferLoco|name=WAGR Yule|power=74|type=d}}

 
−

{{GemOfferLoco|name=Dash 9 Yule|power=76|type=d}}

 
−

{{GemOfferLoco|name=BR Class 60 Yule|power=80|type=d}}

 
−

{{GemOfferLoco|name=SD60E Yule|power=81|type=d}}

 
−

{{GemOfferLoco|name=GE BB40 Yule|power=83|type=d}}

 
−

{{GemOfferLoco|name=EMD SD80 Yule|power=86|type=d}}

 
−

{{EndTable}}

 
−

==Monochrome (November)==

 
−

{{GemOfferLocoTable|Monochrome|2016|[[:Category:Black Friday#2016|Black Friday 2016]]}}

 
−

{{GemOfferLoco|name=FEF-2 Monochrome|power=14|type=s}}

 
−

{{GemOfferLoco|name=BR66 Monochrome|power=14|type=d}}

 
−

{{GemOfferLoco|name=HK Monochrome|power=18|type=d}}

 
−

{{GemOfferLoco|name=DD35 Monochrome|power=72|type=d}}

 
−

{{GemOfferLoco|name=Macosa Monochrome|power=73|type=d}}

 
−

{{GemOfferLoco|name=BR47 Monochrome|power=75|type=d}}

 
−

{{GemOfferLoco|name=SDP40 Monochrome|power=79|type=d}}

 
−

{{GemOfferLoco|name=C class Monochrome|power=80|type=d}}

 
−

{{GemOfferLoco|name=SD45 Monochrome|power=82|type=d}}

 
−

{{GemOfferLoco|name=AC44i Monochrome|power=85|type=d}}

 
−

{{EndTable}}

 
−

==TS6 Wraith (October)==

 
−

{{GemOfferLocoTable|event=[[:Category:TS Anniversary#2016|TS Anniversary 2016 - 6th Anniversary]]}}

 
−

{{GemOfferLoco|name=TS6 Wraith 19.10 DRG|power=14|type=s}}

 
−

{{GemOfferLoco|name=TS6 Wraith 68000|power=14|type=d}}

 
−

{{GemOfferLoco|name=TS6 Wraith NSW 90|power=18|type=d}}

 
−

{{GemOfferLoco|name=TS6 Wraith IE 201|power=71|type=d}}

 
−

{{GemOfferLoco|name=TS6 Wraith ME|power=72|type=d}}

 
−

{{GemOfferLoco|name=TS6 Wraith GP40|power=74|type=d}}

 
−

{{GemOfferLoco|name=TS6 Wraith GP60|power=78|type=d}}

 
−

{{GemOfferLoco|name=TS6 Wraith SD70ACe|power=79|type=d}}

 
−

{{GemOfferLoco|name=TS6 Wraith DXB|power=81|type=d}}

 
−

{{GemOfferLoco|name=TS6 Wraith T4|power=84|type=d}}

 
−

{{EndTable}}

 
−

==PF9 (August)==

 
−

{{GemOfferLocoTable|PF9|2016|[[:Category:PF Birthday#2016|PF Birthday 2016 - 9th Birthday]]}}

 
−

{{GemOfferLoco|name=PF9 Class A1|power=14|type=s}}

 
−

{{GemOfferLoco|name=PF9 TEM7A|power=14|type=d}}

 
−

{{GemOfferLoco|name=PF9 Di 6|power=16|type=d}}

 
−

{{GemOfferLoco|name=PF9 CC300|power=69|type=d}}

 
−

{{GemOfferLoco|name=PF9 DF200|power=70|type=d}}

 
−

{{GemOfferLoco|name=PF9 BB40-9W|power=72|type=d}}

 
−

{{GemOfferLoco|name=PF9 G2000|power=75|type=d}}

 
−

{{GemOfferLoco|name=PF9 RSD-15|power=76|type=d}}

 
−

{{GemOfferLoco|name=PF9 BL2|power=78|type=d}}

 
−

{{GemOfferLoco|name=PF9 PH37|power=81|type=d}}

 
−

{{EndTable}}

 
−

==Flux (June)==

 
−

{{GemOfferLocoTable|Flux|2016|[[:Category:Electric Extravaganza#2016|Electric Extravaganza 2016]]}}

 
−

{{GemOfferLoco|name=Class 10 Flux|power=14|type=s}}

 
−

{{GemOfferLoco|name=GP50 Flux|power=14|type=d}}

 
−

{{GemOfferLoco|name=M61 Flux|power=15|type=d}}

 
−

{{GemOfferLoco|name=ML 2200 Flux|power=68|type=d}}

 
−

{{GemOfferLoco|name=Eurolight Flux|power=69|type=d}}

 
−

{{GemOfferLoco|name=B32-8WH Flux|power=71|type=d}}

 
−

{{GemOfferLoco|name=DE-AC33C Flux|power=74|type=d}}

 
−

{{GemOfferLoco|name=40CC Flux|power=75|type=d}}

 
−

{{GemOfferLoco|name=HXN5 Flux|power=77|type=d}}

 
−

{{GemOfferLoco|name=C44aci Flux|power=80|type=d}}

 
−

{{EndTable}}

 
−

==Frenzy (April)==

 
−

{{GemOfferLocoTable|Frenzy|2016|[[:Category:Steam Frenzy#2016|Steam Frenzy 2016]]}}

 
−

{{GemOfferLoco|name=DSB ME Frenzy|power=14|type=d}}

 
−

{{GemOfferLoco|name=Class 18 Frenzy|power=15|type=s}}

 
−

{{GemOfferLoco|name=ML 4000 Frenzy|power=15|type=d}}

 
−

{{GemOfferLoco|name=Class 60 Frenzy|power=66|type=d}}

 
−

{{GemOfferLoco|name=WDG5 Frenzy|power=67|type=d}}

 
−

{{GemOfferLoco|name=DR-6 Frenzy|power=69|type=d}}

 
−

{{GemOfferLoco|name=GP38-2 Frenzy|power=72|type=d}}

 
−

{{GemOfferLoco|name=SD40-2 Frenzy|power=74|type=d}}

 
−

{{GemOfferLoco|name=Euro 4000 Frenzy|power=76|type=d}}

 
−

{{GemOfferLoco|name=SD60E Frenzy|power=79|type=d}}

 
−

{{EndTable}}

 
−

==Aeon (February)==

 
−

{{GemOfferLocoTable|Aeon|2016}}

 
−

{{GemOfferLoco|name=Aeon GP40|power=14|type=d}}

 
−

{{GemOfferLoco|name=Aeon Express|power=15|type=s}}

 
−

{{GemOfferLoco|name=Aeon CM40-8M|power=15|type=d}}

 
−

{{GemOfferLoco|name=Aeon IE201|power=65|type=d}}

 
−

{{GemOfferLoco|name=Aeon Class 66|power=66|type=d}}

 
−

{{GemOfferLoco|name=Aeon Vectron|power=68|type=d}}

 
−

{{GemOfferLoco|name=Aeon SD70|power=71|type=d}}

 
−

{{GemOfferLoco|name=Aeon DDA40X|power=73|type=d}}

 
−

{{GemOfferLoco|name=Aeon GT26C|power=75|type=d}}

 
−

{{GemOfferLoco|name=Aeon DXB|power=78|type=d}}

 
−

{{EndTable}}

 
−
 
−

=2015=

 
−

==Festive (December)==

 
−

{{GemOfferLocoTable|event=[[:Category:Christmas#2015|Christmas 2015]]}}

 
−

{{GemOfferLoco|name=CW 90 Festive|power=14|type=d}}

 
−

{{GemOfferLoco|name=Tornado Festive|power=15|type=s}}

 
−

{{GemOfferLoco|name=R333 Festive|power=15|type=d}}

 
−

{{GemOfferLoco|name=PH37ACi Festive|power=64|type=d}}

 
−

{{GemOfferLoco|name=AC44i Festive|power=65|type=d}}

 
−

{{GemOfferLoco|name=Eurolight Festive|power=67|type=d}}

 
−

{{GemOfferLoco|name=GE Evo Festive|power=70|type=d}}

 
−

{{GemOfferLoco|name=BR 47 Festive|power=72|type=d}}

 
−

{{GemOfferLoco|name=G2000 BB Festive|power=74|type=d}}

 
−

{{GemOfferLoco|name=BB40-9W Festive|power=77|type=d}}

 
−

{{EndTable}}

 
−

==TS5 (October)==

 
−

{{GemOfferLocoTable|event=[[:Category:TS Anniversary#2015|TS Anniversary 2015 - 5th Anniversary]]}}

 
−

{{GemOfferLoco|name=TS5 ES44AC|power=13|type=d}}

 
−

{{GemOfferLoco|name=TS5 Aether|power=14|type=s}}

 
−

{{GemOfferLoco|name=TS5 C44aci|power=14|type=d}}

 
−

{{GemOfferLoco|name=TS5 Class 240|power=61|type=d}}

 
−

{{GemOfferLoco|name=TS5 V320|power=62|type=d}}

 
−

{{GemOfferLoco|name=TS5 RS3m|power=64|type=d}}

 
−

{{GemOfferLoco|name=TS5 JT38CW-DC|power=68|type=d}}

 
−

{{GemOfferLoco|name=TS5 9-44CW|power=69|type=d}}

 
−

{{GemOfferLoco|name=TS5 SD45|power=71|type=d}}

 
−

{{GemOfferLoco|name=TS5 BL-2|power=74|type=d}}

 
−

{{EndTable}}

 
−

==PF8 (August)==

 
−

{{GemOfferLocoTable|event=[[:Category:PF Birthday#2015|PF Birthday 2015 - 8th Birthday]]}}

 
−

{{GemOfferLoco|name=IE PF8|power=13|type=d}}

 
−

{{GemOfferLoco|name=Valiant PF8|power=14|type=s}}

 
−

{{GemOfferLoco|name=ES59ACi PF8|power=14|type=d}}

 
−

{{GemOfferLoco|name=WAGR PF8|power=58|type=d}}

 
−

{{GemOfferLoco|name=EMD 45 PF8|power=59|type=d}}

 
−

{{GemOfferLoco|name=Victoria PF8|power=61|type=d}}

 
−

{{GemOfferLoco|name=Maxima PF8|power=66|type=d}}

 
−

{{GemOfferLoco|name=Vectron PF8|power=67|type=d}}

 
−

{{GemOfferLoco|name=GE 8-40C PF8|power=69|type=d}}

 
−

{{GemOfferLoco|name=WDG4D PF8|power=72|type=d}}

 
−

{{EndTable}}

 
−

==Solstice (June)==

 
−

{{GemOfferLocoTable|event=[[:Category:Midsummer#2015|Midsummer 2015]]}}

 
−

{{GemOfferLoco|name=Solstice Tiger|power=13|type=d}}

 
−

{{GemOfferLoco|name=Solstice Class 3000|power=14|type=s}}

 
−

{{GemOfferLoco|name=Solstice RSD-15|power=14|type=d}}

 
−

{{GemOfferLoco|name=Solstice SD70ACe|power=56|type=d}}

 
−

{{GemOfferLoco|name=Solstice U50C|power=57|type=d}}

 
−

{{GemOfferLoco|name=Solstice Euro|power=59|type=d}}

 
−

{{GemOfferLoco|name=Solstice CM40-8M|power=64|type=d}}

 
−

{{GemOfferLoco|name=Solstice M61|power=65|type=d}}

 
−

{{GemOfferLoco|name=Solstice TEM7|power=67|type=d}}

 
−

{{GemOfferLoco|name=Solstice BR 70|power=70|type=d}}

 
−

{{EndTable}}

 
−

==Vernus (April)==

 
−

{{GemOfferLocoTable|Vernus|2015|[[:Category:Spring#2015|Spring]]}}

 
−

{{GemOfferLoco|name=SD80 Vernus|power=13|type=d}}

 
−

{{GemOfferLoco|name=AC-11 Vernus|power=14|type=s}}

 
−

{{GemOfferLoco|name=WDG5 Vernus|power=14|type=d}}

 
−

{{GemOfferLoco|name=V300 Vernus|power=53|type=d}}

 
−

{{GemOfferLoco|name=BR 41 Vernus|power=54|type=d}}

 
−

{{GemOfferLoco|name=DSB ME Vernus|power=56|type=d}}

 
−

{{GemOfferLoco|name=TEP70 Vernus|power=62|type=d}}

 
−

{{GemOfferLoco|name=ER20CF Vernus|power=63|type=d}}

 
−

{{GemOfferLoco|name=BR 52 Vernus|power=65|type=d}}

 
−

{{GemOfferLoco|name=V320 Vernus|power=68|type=d}}

 
−

{{EndTable}}

 
−

==Cupid (February)==

 
−

{{GemOfferLocoTable|event=[[:Category:Valentine's Day#2015|Valentine's Day 2015]]}}

 
−

{{GemOfferLoco|name=Cupid BB68000|power=13|type=d}}

 
−

{{GemOfferLoco|name=Cupid FEF-2|power=14|type=s}}

 
−

{{GemOfferLoco|name=Cupid BB40-9WM|power=14|type=d}}

 
−

{{GemOfferLoco|name=Cupid EMD SD40-2|power=49|type=d}}

 
−

{{GemOfferLoco|name=Cupid GM SD45|power=50|type=d}}

 
−

{{GemOfferLoco|name=Cupid CC300|power=52|type=d}}

 
−

{{GemOfferLoco|name=Cupid BR Class 60|power=61|type=d}}

 
−

{{GemOfferLoco|name=Cupid NSB Di 6|power=62|type=d}}

 
−

{{GemOfferLoco|name=Cupid DF200|power=64|type=d}}

 
−

{{GemOfferLoco|name=Cupid G2000|power=67|type=d}}

 
−

{{EndTable}}

 
−
 
−

=2014=

 
−

==Mirth (December)==

 
−

{{GemOfferLocoTable|event=[[:Category:Christmas#2014|Christmas 2014]]}}

 
−

{{GemOfferLoco|name=SD70ACe Mirth|power=13|type=d}}

 
−

{{GemOfferLoco|name=ATSF Mirth|power=14|type=s}}

 
−

{{GemOfferLoco|name=ALCO Mirth|power=14|type=d}}

 
−

{{GemOfferLoco|name=BL-2 Mirth|power=48|type=d}}

 
−

{{GemOfferLoco|name=F9A Mirth|power=49|type=d}}

 
−

{{GemOfferLoco|name=ER20CF Mirth|power=51|type=d}}

 
−

{{GemOfferLoco|name=GTEL Mirth|power=60|type=d}}

 
−

{{GemOfferLoco|name=Victoria Mirth|power=61|type=d}}

 
−

{{GemOfferLoco|name=ML4000 Mirth|power=63|type=d}}

 
−

{{GemOfferLoco|name=Vectron Mirth|power=66|type=d}}

 
−

{{EndTable}}

 
−

==TS4 (October)==

 
−

{{GemOfferLocoTable|event=[[:Category:TS Anniversary#2014|TS Anniversary 2014 - 4th Anniversary]]}}

 
−

{{GemOfferLoco|name=TS4 ES44AC|power=13|type=d}}

 
−

{{GemOfferLoco|name=TS4 Class 10|power=14|type=s}}

 
−

{{GemOfferLoco|name=TS4 Dash 8-40C|power=14|type=d}}

 
−

{{GemOfferLoco|name=TS4 WDG4D|power=46|type=d}}

 
−

{{GemOfferLoco|name=TS4 C44aci|power=47|type=d}}

 
−

{{GemOfferLoco|name=TS4 Maxima|power=49|type=d}}

 
−

{{GemOfferLoco|name=TS4 WAGR S|power=58|type=d}}

 
−

{{GemOfferLoco|name=TS4 DDA40X|power=59|type=d}}

 
−

{{GemOfferLoco|name=TS4 Veranda|power=61|type=d}}

 
−

{{GemOfferLoco|name=TS4 Big Boss|power=64|type=d}}

 
−

{{EndTable}}

 
−

==PF 7 (August)==

 
−

{{GemOfferLocoTable|event=[[:Category:PF Birthday#2014|PF Birthday 2014 - 7th Birthday]]}}

 
−

{{GemOfferLoco|name=PF 7 MZ|power=13|type=d}}

 
−

{{GemOfferLoco|name=PF 7 Big Boy|power=14|type=s}}

 
−

{{GemOfferLoco|name=PF 7 Blue Tiger|power=14|type=d}}

 
−

{{GemOfferLoco|name=PF 7 U50C|power=44|type=d}}

 
−

{{GemOfferLoco|name=PF 7 Class 47|power=45|type=d}}

 
−

{{GemOfferLoco|name=PF 7 Eurolight|power=47|type=d}}

 
−

{{GemOfferLoco|name=PF 7 Class 240|power=56|type=d}}

 
−

{{GemOfferLoco|name=PF 7 SD60E|power=57|type=d}}

 
−

{{GemOfferLoco|name=PF 7 9-44CW|power=59|type=d}}

 
−

{{GemOfferLoco|name=PF 7 Big Jack|power=62|type=d}}

 
−

{{EndTable}}

 
−

==1M (June)==

 
−

{{GemOfferLocoTable|event=[[:Category:Facebook Celebrations#2014|Facebook Celebrations 2014 - TS Facebook Page 1 Million Likes]]}}

 
−

{{GemOfferLoco|name=Renfe 1M|power=13|type=d}}

 
−

{{GemOfferLoco|name=Class 7 1M|power=14|type=s}}

 
−

{{GemOfferLoco|name=IE 1M|power=14|type=d}}

 
−

{{GemOfferLoco|name=HXN5 1M|power=44|type=d}}

 
−

{{GemOfferLoco|name=ES59ACi 1M|power=45|type=d}}

 
−

{{GemOfferLoco|name=V320 1M|power=47|type=d}}

 
−

{{GemOfferLoco|name=Dash 9 1M|power=55|type=d}}

 
−

{{GemOfferLoco|name=Eurochief 1M|power=56|type=d}}

 
−

{{GemOfferLoco|name=EMD 1M|power=58|type=d}}

 
−

{{GemOfferLoco|name=SD80 1M|power=60|type=d}}

 
−

{{EndTable}}

 
−

==FB (February)==

 
−

{{GemOfferLocoTable|event=[[:Category:Facebook Celebrations#2014|Facebook Celebrations 2014 - Facebook's 10th Anniversary]]}}

 
−

{{GemOfferLoco|name=FB DB 300|power=13|type=d}}

 
−

{{GemOfferLoco|name=FB Class King|power=14|type=s}}

 
−

{{GemOfferLoco|name=FB V300|power=14|type=d}}

 
−

{{GemOfferLoco|name=FB WDG5|power=40|type=d}}

 
−

{{GemOfferLoco|name=FB BHEEM|power=42|type=d}}

 
−

{{GemOfferLoco|name=FB BR 41|power=45|type=d}}

 
−

{{GemOfferLoco|name=FB Class 41|power=48|type=d}}

 
−

{{GemOfferLoco|name=FB EMD 45|power=50|type=d}}

 
−

{{GemOfferLoco|name=FB DDM45|power=53|type=d}}

 
−

{{EndTable}}

 
−
 
−

=2013=

 
−

==Glittering (December)==

 
−

{{GemOfferLocoTable|event=[[:Category:Christmas#2013|Christmas 2013]]}}

 
−

{{GemOfferLoco|name=Glittering Groene|power=14|type=s}}

 
−

{{GemOfferLoco|name=Glittering Victoria|power=14|type=d}}

 
−

{{GemOfferLoco|name=Glittering Genesis|power=40|type=d}}

 
−

{{GemOfferLoco|name=Glittering Eurorunner|power=47|type=d}}

 
−

{{GemOfferLoco|name=Glittering ER20CF|power=50|type=d}}

 
−

{{EndTable}}

 
 
 
 

=Images=

 

=Images=

Line 669:
Line 23:
 
 
 

[[File:PF9_RSD-15a.png|center|700px]]

 

[[File:PF9_RSD-15a.png|center|700px]]

−

[[NL:Categorie:Gem_Aanbieding]]

 
---
Revision as of 14:43, 6 May 2020


Gem Offers occur at various times throughout the year and present the player with an opportunity to buy a pile of Gems for real money. When a player logs into the game during a Gem Offer, the game displays a pop-up screen listing the number of gems and at what price. The price and gems amount differ for each player based on that player's level and history of past gem purchases. Additionally, Pixel Federation will typically include a FREE locomotive as a bonus incentive. The locomotives within each offer wear liveries with a common theme.

Since from 8 Jul 2019, Pixel Federation released a new form of gem-offer.
There TS repeats engines of older offers to players who can not use the tech level of the actual offer yet. That means players without Maglev or Hyperloop technology will get an diesel offer instead.
Note: Therefore, it will be shown as
.

Each Gem Offer is one-time use only and expires 72 (

) or 36 (

) hours after viewing the offer.

Gem Offers are a kind of Limited Offer. See Limited Offers

  for more information.
Current year of Gem Offer is:
Each year of Gem Offer has its own page via Historical Offers.


Images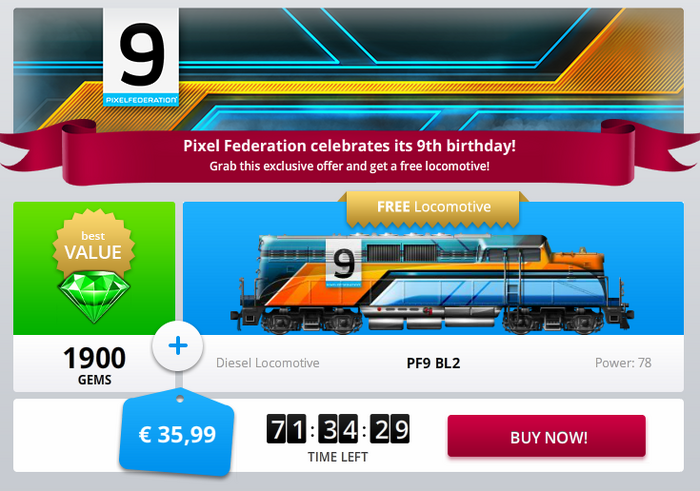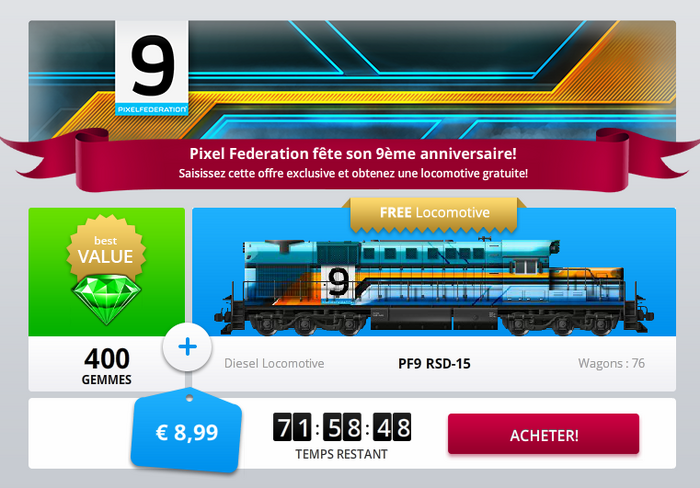 Trending pages
All items (3)