Contractor Profile
Alex (overview)
Meet Ethan's assistant Alex, his assignments are challenging in a special way.
Event
Maglev Madness

Available

2 - 22 May 2017

Total Contracts
7
Minimum Level
500
Travel Time
4 hours
Final Reward
150
Accepted Locomotives
      
Shop
Alex's Shop (2017)
Other Information
• The Story
• Contractor History
Contract list
[
]
#
Objective
Reward
1
Deliver 15,000,000
7 Tenax Wires
( , ,

+3,000%)

3,000,000
2
Deliver 15,000,000
7 Tenax Silicon
( , ,

+3,000%)

3,000,000
3
Deliver 15,000,000
7 Tenax Plastics
( , ,

+3,000%)

3,000,000
4
Deliver 15,000,000
7 Tenax Marble
( , ,

+3,000%)

3,000,000
5
Build 1 Quantus Launch Pad
• Cost: 20,000,000 ; 20,000,000 ; 20,000,000
1 Quantus Launch Pad
( , +1,000 /h, 22 )

3,000,000
6
Deliver 1,500,000,000
1 Tenax
(, 28 )

3,000,000
7
Build 1 Sacrio M1000
• Cost: 2,100,000,000 ; 23,000,000
150
10,000,000
Train Sets Rewarded
[
]
Alex gives the following train sets as a reward for completing his contracts.
The number before the name of the set is the contract number that awards the final piece of the set.
Extra rewards
[
]
Pixel Federation rewarded the first 10 players to finish Alex's contracts with a T-shirt and a decoration:
Top 10 Winners
[
]
CONGRATULATIONS TO THE WINNERS!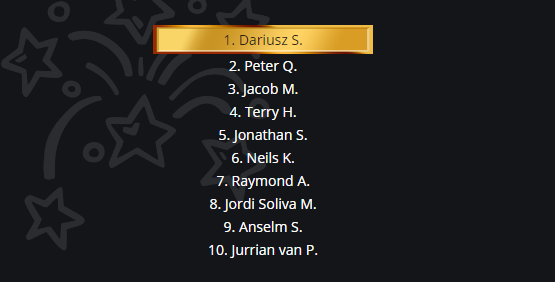 Images
[
]